Dermal fillers can be used to sculpt, contour, volumize, fill, and add a magical pop to the appearance of your skin by highlighting its best features. Hyaluronic acid, a substance found naturally in the skin which decreases with age, is a component of dermal fillers.
Replacing lost hyaluronic acid can smooth away facial lines and wrinkles, make lips and cheeks fuller, elevate the skin to stop drooping, free the skin from aging indications and define and smooth facial contours to the chin and jawline.
Avail of best-in-class Juvederm Filler treatments at Dr. Marwah's for Facial and Hand Rejuvenation, Acne Scars, Tear Trough and Eyes, and Lip Shaping.
Fillers for Facial Rejuvenation – For an Attractive and Enhanced Face
Filler injections provide an FDA-approved, non-surgical option to reduce the appearance of wrinkles, add volume in sunken areas, smooth the skin and give a more youthful appearance.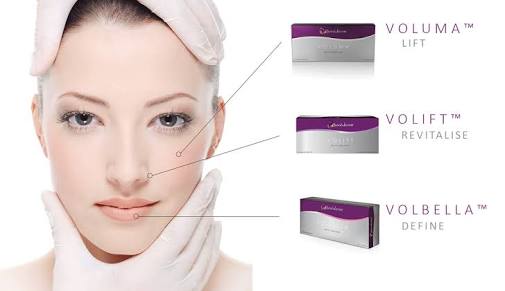 Fillers for Hand Rejuvenation – For Confident Handshakes 
Our bodies are equally as susceptible to the effects of aging as our faces, but the majority of time and resources are dedicated to treating facial problems like wrinkles, creases, sagging skin, and pigmentation. This can give the impression that a face is young but hands are older than it actually is. 
Our hands are constantly exposed to the sun and other environmental irritants but are always on display when someone shakes our hands. Give your hands the care they deserve with filler treatments at Dr. Marwah's.
Fillers for Acne Scars – For Scar-Free, Spotless skin
To "fill in" or "plump up" facial creases and folds, dermal fillers are injected just below the skin's surface. Deep lines and wrinkles are smoothed out by injections by increasing volume beneath the skin, leaving your face with a natural expression. By moisturising the skin and enhancing its suppleness and structure, they refresh the face. Dermal fillers also aid in the aesthetic improvement of ugly acne scars.
Fillers to Tear Troughs – To Brighten your Dark Circles
The depressions between the lower eyelid and upper cheek are known as tear troughs. They extend outwards and downwards towards the cheek. Aging causes tear troughs to become deeper, longer, and more shadowed. Finely placing a tiny and well-dispersed amount of hyaluronic acid filler in the tear trough region helps to smoothen the appearance of the under eyes and refresh the overall appearance of the face.
Fillers for Lip-Shaping – Shape Your Lips to Perfection
Lip augmentation with hyaluronic acid, the main ingredient of our dermal fillers, is the most popular cosmetic treatment for those looking for fuller, defined lips. These procedures are used to increase the attractiveness of your overall face and lips, improve the aesthetic harmony between them, and restore lost volume.