Vbeam Prima is a pulse dye laser that treats vascular issues such as visible veins, redness caused by skin diseases like rosacea, and certain birthmarks using a single wavelength of light. 
What exactly is Vbeam?
Vbeam is the most efficient pulsed dye laser currently available (PDL). It can be used to treat pigmented scars, spider veins, broken capillaries, birthmarks, hyperpigmentation, freshly developed stretch marks, and various kinds of red, brown, or purple face pigmentation.
It emits laser light in fast bursts that is absorbed by dilated blood vessels in the skin, eliminating pigment while leaving the surrounding skin unharmed.
Pulsed dye lasers like Vbeam are so light that they've been used on newborns and small children with fair to medium skin tones for decades to erase scarlet birthmarks like port-wine stains. The Vbeam Prima system is with 595 nm wavelength.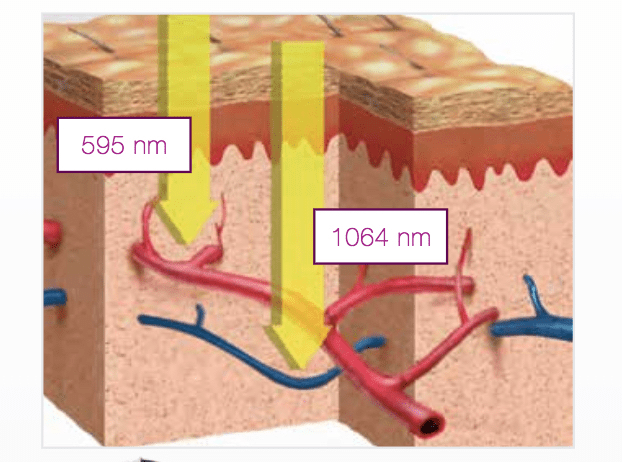 Conditions Treated with the Vbeam Prima – 
Visible spider veins 

Dilated capillaries of the face, neck, chest, and legs

Diffuse redness due to rosacea and other skin conditions

Acne and acne scars

Birthmarks, cherry angiomas, telangiectasia and port wine stains

Some scars and stretch marks

Some types of hyperpigmentation

Red marks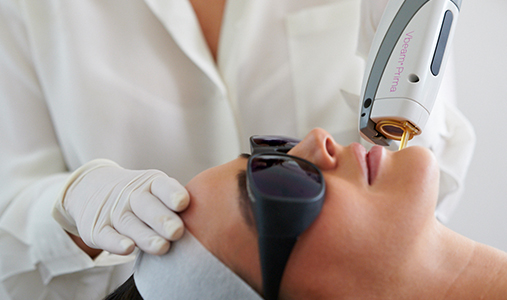 What are the advantages and disadvantages of Vbeam laser treatment?
Advantages – 
On light skin, Vbeam is gentle but effective. After just one Vbeam treatment, individuals experienced a 54% increase in the evenness of their skin tone in one research.

According to patient reviews, you may notice some improvements right after a Vbeam laser treatment.

It's a popular rosacea treatment, with benefits lasting three to five years on average.

The treatment is quick and requires little to no downtime.
Disadvantages – 
People with olive or brown skin tones should avoid using Vbeam. There is a danger of hyperpigmentation or even burns since the laser is drawn to pigment.

Short-term swelling and redness are the most typical adverse effects.

If you're having a broad region treated, the Vbeam may leave a bruise, which should disappear within a few days.
How much does Vbeam cost?
The cost of your treatment will be determined by the location of your provider's clinic, their degree of experience, and the number of sessions you have scheduled.
Is a Vbeam treatment painful?
During a Vbeam session, you'll feel slight discomfort, similar to the snap of a rubber band against your skin. To ensure comfort, the applicator tip sprays a cooling spray just before the laser bursts, and the treatment is quite fast.
What can you expect after that?
For a few hours following your treatment, the treated area may be red and potentially swollen. This might persist for a few days if you have sensitive skin, but it shouldn't be obvious enough to prohibit you from going about your daily activities.
When will the results be visible, and how long will they last?
You may observe ultimate effects after just one treatment if you're treating veins or cherry angiomas (extremely little red growths).
Expect a series of three to five treatments, spaced a month apart, for all other problems. To sustain your outcomes, you may require follow-up appointments a few years later. To assist prevent new pigmentation disorders, avoid direct sunlight between sessions and apply sunscreen with an SPF of 30 or higher.